As big supporters of the Women's Support Foundation we wanted to take a moment to put the spotlight on one of our outstanding women athletes, as February 5 marks the 34rd Annual National Girls & Women in Sports Day. This national observance celebrates the extraordinary achievements of women and girls in sports, and we invited Alyssa Calcagno '20 to an interview to discuss her time in athletics at Doane Stuart and to talk about her collegiate goals!
What has been your most rewarding experience so far playing at DS?
My most rewarding experience from playing soccer at Doane Stuart is the people I was surrounded with. Every player truly loved the game, as well as playing together. It's what made our team so special. From our tears to our smiles, Coach Wheaton was there for it all. He treated us all as if we were his kids, he cared beyond the soccer season.
Personally, Coach Wheaton has been a very strong figure in my high school experience. I basically grew up in doctors' offices, as I was unexplainably sick for 15 years. My illness is often invisible, and that is my biggest struggle with it. When people hear the word "pain," they automatically look for a visual representation of it, and I didn't always have one. I struggled my entire life with how to explain it to others because I didn't know what was going on either, but I felt it. Many people didn't believe me, no matter what I said. I eventually became mute about it, because it hurt to hear the ignorant comments. But when I started playing for Coach Wheaton, I never needed an explanation. He understood my unexplainable pain. He would adjust practice drills or my game position based on how I was feeling. My teammates would always jump in to help wrap my bruises and injuries. I can't describe how much that helped me grow not only as a soccer player but as a person too. It broke a barrier in me, and I definitely became a much better player because of it. I truly hope Coach Wheaton knows that I would not be where I am today without him.
Do you have any best game/worst game memories to share?
My ankle is still bruised from September 12, 2018. I don't think I will ever forget that game. I was a junior and we were playing a very competitive and physical team. Bad bruises weren't uncommon for me, but this game definitely hit differently. My right ankle was numb for most of the game. I was so caught up with the competitiveness of the game that I totally forgot about my ankle! At the end of the game, I really started to feel the pain. I pulled down my sock and took my shin guard off to find the biggest and purplish bruise I had ever seen. My ankle stayed bright purple for 8 months after. It finally faded, but if you look today, you can still see the outline from my injury. I like to think of it as a tattoo from soccer.
Ouch! I don't know if our readers could handle the image you shared with me but wow, what an extreme and memorable thing to experience. Now onto the next stage in your educational career ~ congratulations on your acceptance to Mount Holyoke! What drew you to wanting to apply there?
I learned about Mount Holyoke from my older sister, Angela (Doane Stuart '18) (MHC '22), who is currently a sophomore there. She and I are very close in age, only 18 months apart, but we couldn't be more opposite. She's got intelligence and I've got athleticism. I was determined not to like Mount Holyoke, thinking it would only be everything Angela likes.
But on my first visit, I completely fell in love. I immediately noticed the athletes and couldn't believe it had every aspect I enjoyed, as well as Angela! Never in a million years would I have thought my sister and I would go to the same college, but I am so glad we are. My youngest sister, Elizabeth ( Doane Stuart '24) already says she wants to go to Mount Holyoke as well because of what she's seen through Angela and me!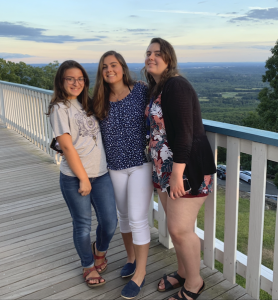 From L-R:
Angela (DS '18) & Alyssa (DS '20), Elizabeth (DS '24) at Mount Holyoke Summit
A whole family of Mount Holyoke alumni! We love that. So, you have to be pretty excited about next fall, right?
I'm beyond excited for Mount Holyoke. For the past two years, MHC was my top priority. I went to all the ID camps, trained a lot, and had many meetings with the Coach. I perfected my college essays and probably asked Ms. Bracken every possible question there is about college. I truly gave it my all. I'm most excited for the preseason in August. To finally be playing with my new teammates and coaches, and to know my hard work paid off.
We are so excited for the journey ahead of you, Alyssa, and so proud to be a part of it! Go Lyons