With humility, grace, laughter, and safety as a priority, we opened our doors on Wednesday to our students, welcoming them back in to a successful first day. After we learned which entrances to be dropped off at, and what hallways would lead where we were able to start the day with comfort and with smiles. Even though we can't always see the smiles beneath the masks, the twinkle in the eyes reveals we were doing something right.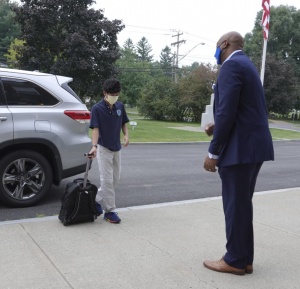 The second day went even easier. Mr. Stodghill was at the circle again to say, "welcome back", and "good morning". We also want to thank our Upper School students, who are our lower school role models, for their patience, manners, and guidance to the lower school students as they got into line to come in and to help them find their way to their classrooms.  You are all exactly what we mean when we describe ourselves as a "family of families."
Which brings us to Friday Funday! Everything moved much quicker, as our students learn so fast, and are so helpful, and attentive going to their classes to start the day!
We are also doing all we can to give all our students, and staff, opportunities to be outside. Who doesn't want the sun on their face, and the breeze in their hair, especially before winter comes?! We were grateful to go out this morning on the lawn and have a magic wand making class! You can't tell me that's not the best! 
Thank you. Thank you for not just choosing us, but for believing in us.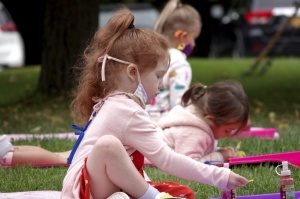 We are Doane Stuart. Together.