This week we have two exciting events to share!
First, on Tuesday, May 17th we have the Puppet People coming to put on a performance and we are inviting the community. The play is open to ages 3+ and is definitely going to be a great time for all the little ones! Register by calling Karen Teich at 518-465-5222 or shoot her an email at [email protected] – and feel free to share with anyone you think would be interested!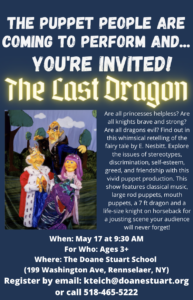 Then! On May 18th, THUNDERCHICKENS, UNITE – at our In Person Open House. This event is a perfect foundation to get to know our school and its community. Families will have the opportunity to meet teachers, learn about our curriculum, talk with current students to get a feel for the school, and observe the connection and passion we all have for our community of families. Having this no pressure look into the workings of the school will give parents a better understanding of who we are and what we stand for.
We are a gender inclusive, full day college preparatory school for students in Early Childhood through Grade 12. The offerings DS has to nurture our students' interests, academically, athletically, artistically, and socially are strong, with purpose, and beloved to our community members.
Our traditions are our promise ~ to our alumni, and new ones are created every year. Adapting to an ever changing world, and to the needs, and wants, of our students, is important not just to their growth as future leaders in the world, but to our growth as a school.