Danny Bologna Sets Single Game Scoring Record for the past 25 years!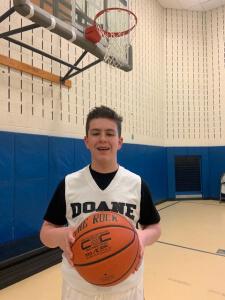 Danny Bologna, Class of 2024, set a single game scoring record for the past 25 years with 39 points in a recent non-league Boys Varsity Basketball game against The King's School in Corinth, NY.  On Wednesday, January 8th, Danny hit on nine 3-point shots, 3 lay-ups, and 6 free throws.  Danny's strong offensive outing eclipsed Kyle Jakovic's 36 point effort from last year's team.  Congratulations, Danny
The all-time single game scoring record of 60 points (http://www.roadtoglensfalls.com/reference/records-scoring-game.shtml) belongs to Nicholas Sedita, Class of 1994.
Latest News Slider/List-2