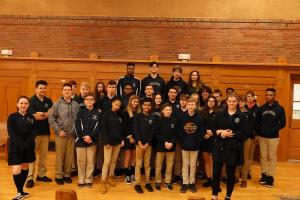 The 2019-20 NYSPHSAA Winter-Sports Scholar-Athletes were recognized Tuesday morning at the All-School Morning Meeting. Student-Athletes who participated in a Varsity-level Sport during the Winter Sports season and earned a GPA of 3.7 or higher during the second academic quarter were recognized and awarded NYSPHSAA Scholar-Athlete Pins.

The recipients are:
Jackson Regan – Boys Basketball
Henry Smith- Boys Basketball
Katrina Catellier – Girls Basketball
Amy Newberg- Girls Basketball
Hailey Slade – Girls Basketball
Olakunsi Peters – Girls Basketball
Caroline Page – Winter Indoor Track and Field
Austin Ping – Winter Indoor Track and Field
Congratulations!
In addition, our Winter Sports – Athletes were recognized for their contributions and dedication to the season.
Student-Athletes from the following teams were recognized:
Winter Varsity Indoor Track
Boys and Girls Varsity Basketball
Thank you for representing Doane Stuart in interscholastic athletics this past Winter!