In the spring of 1939, a young, intelligent, creative, and curious woman graduated from Saint Agnes School.
Joan Vollmer, active on the editorial board of the Saint Agnes publication, Bleatings, from 1936 until her graduation, loved literature, editing, and reading. 
In 1938, Vollmer used her French coursework to write a piece in that year's Bleatings, titled: "Les Chants Nationaux". Our very own French teacher, Alexandra Valenti, translated the piece for the blog, and what we found was incredibly beautiful, insightful, interesting, and intellectually profound for a teenager.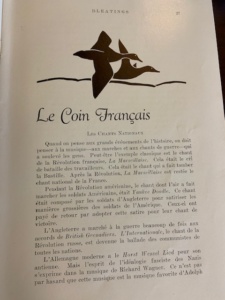 As per Madame Valenti's translations:
"The psyche of the Fascist ideology of the Nazis reveals itself in the music of Wagner.  It's not by chance that this music is Hitler's favorite.  When Hitler was rising to power/would be present, the orchestra played La Course des Valkyries.  This music, with its almost hysteric heroism and its theatrical and pretentious grandeur, represents, in a symbolic way, the spirit of the Fuehrer.  The music maybe also raises that Siegfrieds Rheinreise, or as banal as Over There, if it takes people's imagination, it can have a great effect on the progress of the deterioration of humanity." Joan Vollmer, '39 
This is the first and only piece of writing we see from her. An avid letter writer, Vollmer rarely penned creative pieces for publication. It's a rare gem to have this living history still on our school shelves for our students to see.
In 1939, Vollmer was also presented with the school's Gold Medal, an award bestowed on the senior with the highest average for the year. This was likely the reason her peers voted her "Most Intellectual" that year. Additionally, in the Bleatings yearbook, she lists Beethoven as her "weakness," having a favorite saying of "he's wonderful." Joan lists her hands as her "best feature," and ends the section with her ambition: "to live in New York City." And she did.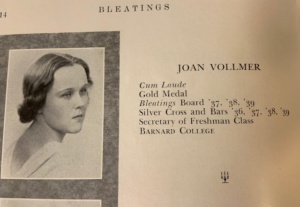 Vollmer, seeking adventure, independence, and new experiences, left her hometown of Loudonvillle, NY to enroll at Barnard College, majoring in journalism. There met a similar spirit in Edie Parker (first wife of Jack Kerouac) and moved in with her. Sharing an apartment on 118th Street in NYC, their place became the hub for the meeting of the minds. Lucien Carr, Allen Ginsberg, Jack Kerouac, and Vollmer's future husband, William Burroughs, often frequented their flat to discuss writing, literature, philosophy, music, and world affairs. 
In 1946, she married William Burroughs. She was just 23 years old. Her marriage, and her circle of friends, became a whirlwind for Joan, eventually causing her to suffer from addiction. Additionally, the complex, and often toxic, connection between Burroughs and Volmer ultimately led to her unfortunate death.
Brenda Knight, in her book, The Women of the Beat Generation, describes Vollmer as "seminal in the creation of the Beat revolution; indeed the fires that stoked the Beat engine were started with Joan as patron and muse."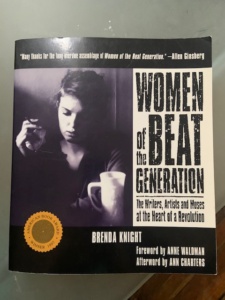 Vollmer was an avid writer, editor, and fiercely independent, inspired, motivated, and challenged her male counterparts. She broke barriers for women seeking equality in intellectual circles, and often encouraged her friends to use their wit, independence, bravery, and intelligence to do the same.
"Widely considered one of the most perceptive people in the group, her strong mind and independent nature helped bulldoze the Beats toward a new sensibility."  (Knight)