Every year, our school celebrates "Founder's Day". It's a day to stop what we are doing and reflect on where we have come from. We talk about our school history, traditions, people that have made meaningful, lasting impacts on our lives, and the memories we made here. We share these with our current student body because THEY are also, our history. 
This year, on Founder's Day, we were grateful to have three of our own alum, speak. Beyond being just an alum of our school, they are here, every day. They are our faculty. They maintain our values, our mission, our traditions, and have begun creating their own. One of our alum (who is also our amazing librarian), Chris Bradt '05, spoke that morning and his words resonated with everyone in the room. He eloquently put his memories into a speech that gave the room chills, and a sense of love, purpose, and admiration for the school we come to every day. Rather than summarize what he said, we asked Chris for his transcript and felt that sharing it in its entirety would do the most justice to his work. 
Memories: 
A maverick teacher who eschews owning a car and rides his bike from his home in Delmar to the school in Albany that he teaches science, math, and bioethics at. He's served as a field researcher in South America and lived with a tribe in the Amazon. He is a brilliant, witty, and caring teacher.
 A paper airplane fever that overtakes the boys in the class, culminating (or imploding might be a better word) with a multitude of paper airplanes sailing out a top-story window, down past the college counselor's window, like strange white leaves on a bluebird afternoon. A no-fly zone goes into effect shortly thereafter.    
Losing a modified basketball game, on a cold winter evening, by a score of 81 points to 3 (yes, there was dunking), but, years later, on a late spring afternoon, winning the class C & D varsity tennis championship for the first time in school history. 
September 11th, 2001. The confusion, sadness, and uncertainty, yes, but also the robust dialogue that ensues within the school about security, about civil liberties, about U.S. foreign policy, about tolerance, and about the world we want to live in.   
A luminous candle-lighting moment that takes place each year — almost uninterrupted — with no fire trucks.
Reading James Merrill's flickering poem, "A Vision of the Garden" in an 11th grade English class. If I had never glimpsed into the garden of literary interpretation, would I have become an English major in college?
Walking down the hallways and seeing pictures of my grandmother and mother among the St. Agnes graduates.
These, and many others, are memories from twelve years spent as a student at Doane Stuart. I am often asked what it is like to teach at my alma mater, and I usually answer with some variation on how the campus is different enough that I can maintain a sense of separation, that it is something akin to visiting a family home that your parents moved to after you had already gone away to college. And it is true, as a student at Doane Stuart's Kenwood campus for twelve years, many of my memories are intricately linked to the physical space: the tennis courts in the woods, the soccer field by the cemetery, the old Steinway B behind the curtain stage. Yet, despite being on a different campus, it is the same school with a few of the same faces and an abundance of the same spirit. It is still a place of Blue-Green teamwork, of an integrated project, of intellectual discovery, of community service, of Mr. and Mrs. H, of kindness, and, of course, of the Thunder Chicken.  
It is also a place that is evolving, and what inspires me most as a faculty member are the potentialities of the school and its students. This includes the work the school is doing with its No Place for Hate Project and the work that it will undoubtedly do to confront issues like climate change. I know that so many of you students will go on to be fine authors, scientists, lawyers, musicians, athletes, teachers and college professors, chess players, global citizens, and friends to one another.  
One last memory, more recent: that serendipitous moment when, shelving in the library, I see a classmate's name written on the checkout card in the back of the book or even my own.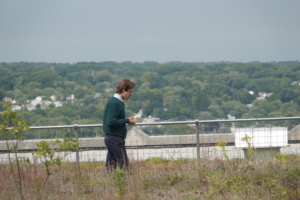 '