Mrs. Mitchell, our Director of Health and Wellness, just returned from competing Monday in the Boston Marathon! Robin has been running since she was a child and to say it's her passion, is an understatement. She has run in eighteen marathons, and Monday was her 4th Boston Marathon!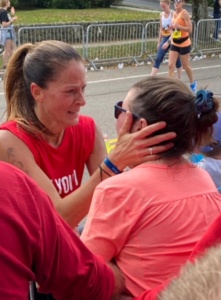 Robin wasn't just running the marathon for herself, though. Robin was running for a dear friend of hers who has ALS and the mission for Robin was to raise awareness about the disease. All the good feelings were had when we saw the photos of Robin meeting up with her on Heartbreak Hill at the marathon.  
Before the marathon, we were able to ask her some questions about her regiment, the marathon, and advice on how to start running!
Congratulations, Robin. You are such an inspiration!
When did  you start running?
 A long time ago!  Maybe when I was 7 or 8.  My first race was the Turkey Trot in Buffalo.  
Have you run other marathons before? 
This will be my 18th marathon.  
How do you train for a marathon? Food? Exercise? Hope?
Training requires a pretty significant time commitment as well as physical and mental dedication.  I have a tremendous amount of support from family and friends, so I am very thankful for that.  
Have you ever run any part of the Boston course?
This will be my 4th Boston.  I love the city, the spectators and the course! It's the world's oldest annual marathon and one of the six World Major Marathons.  Another reason Boston is so unique is that you have to qualify to run it. 
What motivated you to qualify for Boston? 
It's the one to strive for as a marathon runner.  It's also become a unifying and patriotic event after the 2013 Boston marathon bombing.  "Boston Strong" adds another layer of importance in my heart and mind.  I'm also running this year to raise awareness for ALS (Lou Gehrig's disease).  
Will you be running Boston with a group? 
I will be running with one of my best friends, Veronica.  This will be our 3rd marathon together.    
Any advice for those that are interested in running, or trying it, but don't know where to start?
Advice I'd offer for anyone interested?   Running has changed my life.  I'd encourage people to get out there and try something new. Finding something that brings you joy and balance.  Something as simple as running can have a profound effect on your life.  You'll never know unless you try!