Jack Kroll is a student here at DS, but he's also an athletic machine and has been since he was a little one. Watching videos or seeing stills from his accomplishments aren't just awe inspiring, but will leave you wondering, "how on Earth did he just do that?"  He has done more by the 9th grade, than many of us have done in our middle ages. To get to understand Jack a bit more, and learn more about his sport, we were able to dig a little deeper into his fascinating passion. Also, thank you, Jack for including all the technical things with photos! Check out this interview with Jack!
You competed in the Empire State Winter Games – and won in Ski Jumping – I looked it up and mostly, I have no idea what it means. What are the numbers Can you explain some about it? How tall of a jump? How do you train for that? Are you ever scared or nervous? You jumped 2x? What do you do between jumps?
So, the goal is not only to go far, but to go far AND make it look pretty. You get points for distance and points for style. Below the style is explained. Distance is measured in meters and every meter is a certain amount of points.
If you look at the image below, the blue banner represents the "p point". At the beginning of the p point the hill becomes its steepest. It stays at this steepness until the red. The red is the "k point" which is where the hill starts to flatten out. The farther you go past the k point the harder it gets to land. The k point is also how the hill is measured, not the height. For example, I took my first jump on a k20 meaning the k point was at 20 meters. Now I have progressed and am on the k90 which is the smaller of the two olympic sized hills.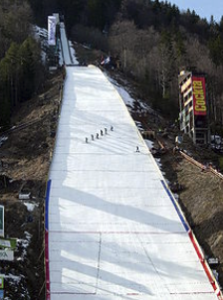 So, I train in both the summer and winter. There is a lot of off hill work but you are more interested in the on hill. An average day starts with going to the jumps and going for a warm up run. Then we do dynamic stretches for just under an hour so we can get into a good inrun going down the ramp. A good inrun is one of the things that separates the good from the best. Then we do catches which is where we jump and our coach catches us. This simulates a jump. Next, we suit up and start jumping. I will take 4-6 jumps a day. 
Between jumps we, in Lake Placid in particular, take a gondola to the base of the tower. Here we watch the videos our coaches take during jumps and get feedback on how to improve. Then we walk up the stairs to the top and down we go. Now repeat.
 I am never really scared because I have progressed from smaller to bigger hills. It has become second nature.
In competition we take a trial which is an unscored jump that is just to get a feel for the hill. Then we take 2 scored jumps. That is the 2x you saw.
What inspired you to start doing these "winter" sports? Other than our long winter season? What age did you start?
I started alpine ski racing when I was 7 with New York Ski Education Foundation(NYSEF). NYSEF also conveniently had a ski jumping program. I just fell into it when I found out and then my alpine coaches said to give it a try. I got hooked and never left.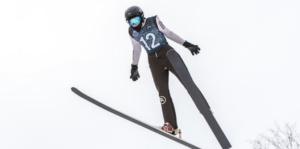 Do you have a professional role model that you look up to/follow?
Ski jumping is a tight community Everyone knows everyone. I have met all the American ski jumpers that went to the Olympics this year. I look up to all of them.
What are the judges looking for when you do it?
There are four critical points in each ski jump. The first is the inrun, which is the ramp portion of the jump where you gain speed and set up for the takeoff. The takeoff is pretty self explanatory, you jump. It isn't as easy as just jumping, it is one of the big make or break points of each jump. Then you get into the flight. The judges are looking for a nice smooth transition to your flight position from the takeoff. They want to see a controlled flight and little to no movement. Lastly, you have the landing. The judges are looking for a few things. First a telemark. This is when we land with one foot about a boot and a half in front of the other and hands out forming a "T" with your body. They also want to see that if you don't tele that you don't touch the ground with your hands. All these scores are added up form each judge combined with your distance points and that is your score.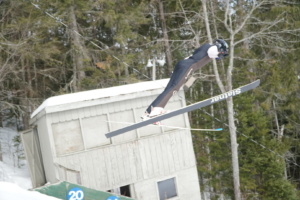 Do you have goals to "go big" – an Olympic outlook?
Yes, I do. While the Olympics aren't the ultimate goal it would sure be a highlight of any career. My short term goal is to be on the Junior National team. From there National and then the Olympics wouldn't be too far away.
Also, as a random note:
I recently competed in the Junior National Championships for Nordic Combined and Ski Jumping. I did pretty well all around but my strongest finish was in the team sprint event. I took second place with my partner, Angelo Goodwin. The team sprint was based on our combined jumping scores. These determined our start time. Then it was a relay race between us, tagging off three times to each other, until the finish.
What a great interview – and we learned so much! Mostly, that Jack never sleeps! HA! Great job, Jack!